Description
Small size, big performance
Each JL Audio XD amp packs a wallop far beyond what you'd expect from something so small. These super-compact amps sport JLAudio's NexD™ state-of-the-art switching amplifier design, for music with true fidelity and impressive impact, all without straining your car's electrical system.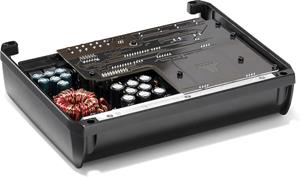 ---
Sharp stereo imaging, powerful bass
The XD500/3 3-channel amp is ideal for powering a pair of high-quality component speakers and a subwoofer, delivering 75 watts RMS to your full-range speakers, while powering a sub with up to 300 watts. Take off the removable control cover and you'll find high- and low-pass filters that give you fine-tuned control over the character of your sound.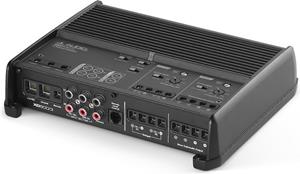 Noise rejection yields cleaner sound
"Differential-balanced" inputs keep the signals clear of outside noise, and allow you to connect this amp to just about any in-dash stereo, even a factory radio with no preamp outputs. Take control from your driver's seat with an optional  wired remote control — you can use the remote to adjust the level of all three channels or just the sub channel alone.
Product highlights:
3-channel car amplifer
75 watts RMS x 2 + 180 watts RMS x 1 (at 4 ohms)
100 watts RMS x 2 + 300 watts RMS x 1 (at 2 ohms)
variable low- and high-pass filters (50-500 Hz high-pass, 12 dB/octave, front channels; 50-500 Hz low-pass, 12 or 24 dB/octave, sub channel)

 optional wired remote 

for level control (switchable for sub channel or all channels)
Class D amplifier design with NextD™ switching amp technology
differential-balanced inputs eliminate noise coming from your vehicle's electrical system
Advanced Rollback Protection System prevents thermal shut-down
speaker- and preamp-level inputs
4-gauge power and ground leads and a 50-amp fuse recommended — wiring and hardware not included with amplifier
no onboard fuses — when installing multiple amps in a system, an additional 50-amp in-line fuse between the distribution block and the amplifier is recommended
8-9/16"W x 2"H x 7-1/16"D
warranty: 2 years
MFR # 98267
What's in the box:
3-Channel amplifier
Self-adhesive JL Audio badge
2.5mm Hex key
Owner's Manual (English/German)
Have Questions About This Product? Message us here or:
Email Us At: info@teamiu.com
Call Us At: 315-458-5000