Description
The Escort RedLine detector legacy continues
The original RedLine from Escort was one of the most highly regarded radar detectors in recent memory, garnering plenty of positive reviews from our customers for its long-distance prowess, lightning-fast alerts, and covert capabilities. Escort improves on a classic with their RedLine EX radar detector, adding a dazzling multi-color display, new technologies for reduced false alerts, and connectivity with Escort's handy app.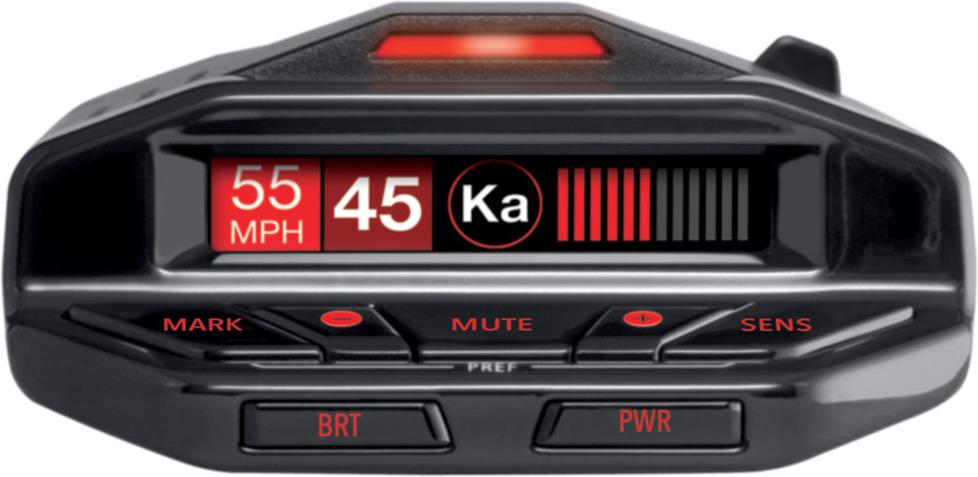 In-Vehicle Technology (IVT) filtering
Factory collision avoidance systems help make cars even more safe by keeping drivers aware of potential accidents, but they wreak havoc on radar detectors because they employ similar frequencies as conventional radar guns. The RedLine EX's updatable IVT system recognizes collision avoidance and adaptive cruise control signals and separates them from the real threats, for fewer annoying false alerts.
AutoLearn technology
The RedLine EX's AutoLearn feature combines GPS location information with the unique frequency footprint of signals it picks up, so it can recognize where you're likely to get a false alert along your drive. You'll hear fewer false alerts, even if you don't mark those locations as false alerts yourself. After as few as three hits on the same location of a false alert, you won't be bothered again.
Rapid visualization of dangers up ahead
The vibrant OLED display gives you a quick, easy-to-follow view of pertinent information about incoming threats. You can choose the backlight color to complement your vehicle's interior lighting, and the recognizable icons and graphics really stand out on the detector's screen. A built-in alert lamp provides additional visual warning for extra protection. You can adjust the overall brightness of the RedLine's visual features, or go to full dark mode for total stealth.
Two antennas for complete coverage
Twin antennas — tuned specifically for the X, K, Ka, and POP radar bands — give you the earliest possible warnings for bands across the board. It features multiple laser sensors, including a dedicated rear laser port to detect laser signals from behind your vehicle. It'll even detect SWS and other emergency channels, so you'll be up to date on road hazards. Patented digital signal processing analyzes incoming transmissions and filters out the noise, minimizing annoying false alerts.
Virtually invisible to detection
TotalShield technology keeps you from being detected by all current radar detector-detection protocols, including VG-2 and Spectre I and IV. This added edge lets you cruise without concern.
Add Escort Live for extra protection
The Escort Live app is a simple way to get your iPhone® or Android™ smartphone involved in keeping you informed. The app combines your GPS location information with real-time reports from other Escort Live users to keep you abreast of potential threats in your vicinity. You can also use the app to report your own sightings of enforcement or other potential travel hazards, which will then be instantly available to other Escort Live users. The app also alerts you to major changes in the posted speed limit, so you can stay on top of the situation.
With the built-in Bluetooth connectivity, you can simply pair the detector with your phone for instant wireless communication between the detector and the app — no additional hardware or cords needed. The Escort Live app is free to download, but a subscription fee is required to use many aspects of the Escort Live service — Escort includes a 1-year trial of the Escort Live Premium service with purchase of the RedLine EX detector.
Included camera locations
The RedLine EX comes with a preloaded database of safety, red-light, and radar camera locations across North America, allowing the detector to warn you when you get near. You can download updates, back up your data, and maintain the database through Escort's website. You'll need a subscription and a Windows®-based computer to update the RedLine EX's database — update subscriptions are available through Escort's website.
Store critical locations
Just tap a button on the keyboard to store locations along the road where the speed limit drops quickly, or where you might encounter heavy enforcement. The RedLine EX will warn you when you approach them in the future. Or press the mute button at the location of a known false signal — the detector will remember the signal, muting the alert the next time you pass by. You'll hear an alert if another type of signal comes from the same location.
Operate like a pro
The user-friendly RedLine EX makes it easy to take advantage of its awesome technology. Three different sensitivity modes let you adjust the detector for city and highway driving. You'll hear clear digital voice alerts in English or Spanish, and you can utilize mute settings to adjust the volume level or turn them off completely.
SmartCord and travel case
Your Escort RedLine EX comes with a travel case, 12-volt SmartCord, and Escort's EZ Mag Mount. The mount securely fastens to your windshield and provides quick, one-touch attachment for your detector, with minimal bouncing as you drive. The SmartCord lets you see alerts when the detector's in fully dark mode, or mute the detector without touching it. And when it's time to update the database of cameras and enforcement areas, the detector's mini-USB input makes it easy for data transfer from your computer.
Product highlights:
radar/laser detector featuring Bluetooth, GPS protection, and preloaded database of red-light and radar cameras
padded travel case and straight/coiled SmartCord cord with mute button and alert LED
headphone jack
mini-USB input
multi-color graphic OLED screen with multiple display modes
selectable display colors: Blue, Green, Red, Amber
Protection:
detects 3 radar bands (selectable) and POP
360° laser protection
twin antennas for extra-long range detection
digital voice and audio tone alerts for radar, laser, and POP
In-Vehicle Technology (IVT) Filter eliminates false alerts from collision avoidance systems and adaptive cruise control
sensitivity modes: highway, Auto (speed-based), and Auto No X
VG-2 and Spectre I/IV immunity (invisible to radar detector detectors)
8 programmable features
Mute, AutoMute, and SmartMute modes
GPS Features:
camera database updates requires USB-to-mini-USB connection (cable not included) and computer running Windows XP or Vista
camera database updates available via Escort website
"Mark Location" feature remembers points for future warnings
AutoLearn feature remembers sources of false signals and mutes alerts
over-speed alert
Bluetooth Features:
wireless compatibility with Escort Live real-time service through smartphone app (1-year free trial subscription included)
Specifications:
dimensions: 3-1/4"W x 1-1/2"H x 5-9/16"D
warranty: 1 year
MFR # 0100030-1
What's in the box:
Radar detector
36" Coiled SmartCord with cigarette lighter adapter and RJ14 plug
Sticky cup magnetic mount
Carrying case
Owner's Manual
Quick Reference Card
Congratulations card
Product Registration card
Have Questions About This Product? Message us here or:
Email Us At: info@teamiu.com
Call Us At: 315-458-5000