Description
Convenient protection for your connected vehicle
Escort's Max 360 radar detector made quite an impression when it landed on our site a couple of years ago. Here was a detector combining long-range protection with the advantages of GPS location tracking and real-time updates on speed traps through a smartphone app. Plus, its arrow display gave you an easy way to see where incoming threats were coming from. It seemed to have it all, and our customers were thrilled. Now Escort raises the ante with the MAX 360c, a radar detector which works with your connected vehicle to provide real-time updates without the hassle of taking out your phone. On top of that, its arrow indicators are better than ever.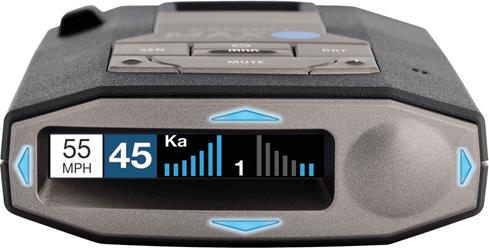 The directional arrows around the Escort MAX 360c's face show where detected signals are coming from.
Got a car with built-in Wi-Fi? Meet your newest travel companion
The Escort MAX 360c's built-in Wi-Fi compatibility lets it connect with your car's Wi-Fi signal (or portable hotspot, if that's how you roll). You can take advantage of all the real-time info like updated speed-trap alerts and false alert zones, without accessing the Escort Live app on your phone and depending on a Bluetooth connection — the radar detector takes care of it automatically. All you have to do is pair the app on your phone with your vehicle's Wi-Fi signal and the detector once, and the detector will automatically remember to activate Escort Live every time you get into your car with your phone. The built-in Wi-Fi also allows the detector to download firmware updates automatically — no need to download them from the web and transfer them to the detector.
The Escort Live app keeps you in the loop
The Escort Live app is a simple way to get your iPhone® or Android™ smartphone involved in reducing your stress while driving. The app combines your GPS location information with real-time reports from other Escort Live users to keep you abreast of potential threats in your vicinity. You can also use the app to report your own sightings of enforcement or other potential travel hazards, which will then be instantly available to other Escort Live users. The app also alerts you to major changes in the posted speed limit, so you can stay on top of the situation. The Escort Live app is free to download, but a subscription fee is required to use many aspects of the Escort Live service — Escort includes a 1-year trial of the Escort Live Premium service with purchase of the MAX 360c detector.
No Wi-Fi? No problem!
With the MAX 360c's built-in Bluetooth connectivity, you won't need Wi-Fi to take advantage of the Escort Live features. You can simply download the free app to your phone and pair the detector with your phone for instant wireless communication between the detector and the app — no additional hardware or cords needed.
Easy-to-see arrows pierce the mystery of incoming threats
The Escort MAX 360c shields you against X-, K-, and Ka-band radar signals, plus multiple laser threats. Digital signal processing gives this detector a high-speed advantage for finding potential issues. Once a signal is found, the well-placed arrows around the detector's display will light up so you can know immediately where you can find its source. Escort's advanced sensors look for the signature of each signal the MAX 360c encounters, to weed out false alerts and to get the information to you more quickly. You can keep a low profile, thanks to this detector's invisibility to VG-2 radar-detector detection.
A reliable shield for your travels
The Escort MAX 360c's multi-color OLED display works in tandem with the large arrows to give you all the info you need quickly. You have four choices of backlight color to complement your vehicle's interior lighting, and the easy-to-recognize icons and graphics really distinguish themselves on the detector's screen. You'll also get voice alerts in English or Spanish so you can make timely decisions while keeping your eyes on the road. 
Know where the cameras are hiding
The MAX 360c comes with a preloaded database of safety, red-light, and radar camera locations across North America, allowing the detector to warn you when you get near. You can download updates, back up your data, and maintain the database through Escort's website. You'll need a subscription and a computer to update the MAX 360c's database — update subscriptions are available through Escort's website.
Memory for saving locations
Just tap a button on the keyboard to store locations along the road where the speed limit drops quickly, or where you might encounter heavy enforcement. The MAX 360c will warn you when you approach them in the future. Or press the mute button at the location of a known false signal — the detector will remember the signal, muting the alert the next time you pass by. You'll hear an alert if another type of signal comes from the same location. The AutoLearn feature can even lock out false alarms after three encounters with them in the same location without you having to do anything at all.
In-vehicle filtering
Factory collision avoidance systems help make cars even more safe by keeping drivers aware of potential accidents, but they wreak havoc on radar detectors because they employ similar frequencies as conventional radar guns. The MAX 360c's updatable IVT system recognizes collision avoidance and adaptive cruise control signals and separates them from the real threats, for fewer annoying false alerts.
Traffic Signal Rejection
Traffic Signal Rejection software goes even further to reduce false alerts. It detects strong K-band signals emitted by common highway traffic flow sensors and filters them out, eliminating meaningless alarms so you can stay focused on the real threats.
Adjustable features to suit your needs
You can set a number of features on the MAX 360c to accommodate your driving comfort level, including which radar bands you wish to monitor, which meter you'd like to see when a signal is detected, and other enhancements. If you want, you can have the detector warn you when you're going faster than a pre-determined speed limit. You'll have three sensitivity levels to choose from, and five different brightness settings, including fully dark.
Works with your Kenwood or JVC touchscreen radio
If you've got a recent JVC or Kenwood touchscreen receiver that supports Apple CarPlay and has an iDatalink port, you can see alerts from the detector through the stereo's display. Once connected to your compatible stereo, you can enjoy a large-screen view of the band detected and your current speed on your radio's large screen.
Everything you need
Escort includes a travel case, an EZ Mag Mount, and a 12-volt SmartCord with the MAX 360c. The SmartCord features straight and coiled sections and allows you to see alerts when the detector's in fully dark mode, or to mute the detector without touching it. And when it's time to update the database of cameras and enforcement areas, the detector's mini-USB input makes it easy for data transfer from your computer, or you can just have updates automatically downloaded via Wi-Fi.
Product highlights:
radar/laser detector featuring Wi-Fi, Bluetooth, GPS protection, and preloaded database of red-light and radar cameras
padded travel case and straight/coiled SmartCord cord with mute button and alert LED
headphone jack
mini-USB input
directional arrow display shows where detected signals originate
multi-color OLED graphic display with multiple display modes
Protection:
detects 17 radar bands (selectable) and POP
360° laser protection
digital voice and audio tone alerts for radar, laser, and POP
Traffic Sensor Rejection software eliminates false alerts from roadside traffic flow sensors
In-Vehicle Technology (IVT) Filter eliminates false alerts from collision avoidance systems and adaptive cruise control
sensitivity modes: highway, Auto (speed-based), and Auto No X
VG-2 immunity
8 programmable features
Mute, AutoMute, and SmartMute modes
GPS Features:
camera database updates via Wi-Fi or through USB connection to Escort website (mini-USB cable not included) — 3-month trial subscription included
"Mark Location" feature remembers points for future warnings
AutoLearn feature remembers sources of false signals and mutes alerts
over-speed alert
Connectivity Features:
built-in Wi-Fi connects to vehicle signal (or mobile hotspot)

access to Escort Live real-time protection service (1-year free trial subscription included)
receive crowd-sourced alerts
make software updates

Bluetooth wireless compatibility with Escort Live service through smartphone app
Specifications:
dimensions: 3-1/4"W x 1-3/8"H x 5-3/16"D
warranty: 1 year
MFR # MAX306C
What's in the box:
Radar/laser detector
Coiled/straight SmartCord with DC power adapter and RJ11 modular jack
EZ Mag magnetic mount
Zippered travel case
Quick Reference booklet
Congratulations!/Warranty card
Product Registration card
Have Questions About This Product? Message us here or:
Email Us At: info@teamiu.com
Call Us At: 315-458-5000
Verify fitment with your vehicle