Description
"Two thumbs up" for Klipsch's flagship Reference tower 
One of the best parts of my job is going to our speaker listening room, closing the door, and playing music to my heart's content. So when Klipsch brought their newly designed RF-7 III floor-standing speakers to our headquarters, I took full advantage of the opportunity. Read on to learn more about this remarkable hand-built tower speaker, as well as my firsthand listening impressions.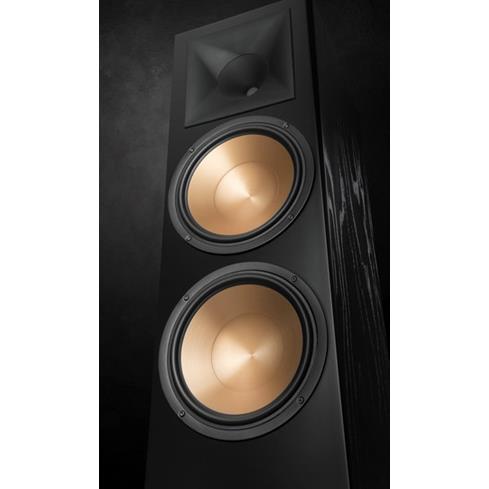 Klipsch's RF-7 III floor-standing speaker features two powerful 10" woofers and a 1-3/4" horn-loaded tweeter (shown in black ash).
An upgrade from a long-time customer favorite
The RF-7 has long been a staple in Klipsch's impressive lineup of Reference Series speakers. In fact, the previous iteration, the RF-7 II, was one of our highest-rated tower speakers in recent years.
The RF-7 III offers a number of improvements over its predecessor, including an all-new 1-3/4" Tractrix® horn-loaded tweeter, two new 10" woofers, new dual rear-firing ports, and an improved crossover network. The RF-7 III even sports a new plinth and magnetic grille, which makes it a cosmetic match with the Klipsch Reference Premiere line. 
My listening takeaways
The first track I listened to on these impressive speakers was a live cut of "No Excuses" from Alice in Chains' Unplugged album.
I was immediately struck by how full and realistic the soundstage was. Granted, these are large speakers, but they effortlessly created an accurate sense of what the candle-lit stage sounded like that evening. Mike Inez' bass came through with depth and pluck. Sean Kinney's drum kit was tight and punchy. And Layne Staley's distinctive voice was clear and full of soul. If you enjoy listening to concert recordings, the RF-7 IIIs are an excellent choice for creating the "live show" feel.
Next up was "Ready or Not" from Fugee's The Score. I listened for the complex layering of Lauryn Hill's voice during the intro, along with the impact and presence of Wyclef Jean's powerful voice when he thunders in at about the 30 second mark. From the kickin' drumline to the seriously cool stereo panning that takes place on this track, I was feeling it with the RF-7 IIIs. The 10" woofers cranked out some serious bass too — as a hip-hop enthusiast I really appreciated this.
I hung around our training room for quite a while and auditioned a wide range of bluegrass, rock, and folk tunes. Across the board, the RF-7 IIIs were a joy to listen to.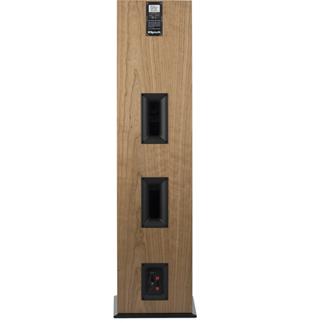 Dual rear-firing ports add to the RF-7 III's impressive bass performance (shown in natural cherry).
Proudly made in the USA
So what makes the RF-7 III sound so good? Well, part of their sonic excellence is attributed to their impeccable build quality. Each speaker is designed and built in Hope, Arkansas. The back of each RF-7 III even features a plaque that's hand-signed by the speaker's craftsman.
A friendly heads-up — this speaker is huge
At just over 4 feet tall, and weighing in at nearly 100 pounds, the RF-7 III is truly a "tower speaker." Just something to keep in mind as you're planning out the logistics of your new system. You'll probably want a buddy to come over to help you move and unbox this massive floor-standing speaker.  
Product highlights:
hand-built in Hope, Arkansas
frequency response 32-25,000 Hz (±3dB)
power handling: up to 250 watts RMS (1,000 watts peak)
sensitivity 100 dB
impedance: 8 ohms compatible
Tractrix® horn with 1-3/4" titanium dome tweeter
dual 10" Cerametallic™ woofers
bass-reflex (ported) design with dual rear-firing Tractrix ports
furniture-grade black ash wood veneer
dual binding posts for bi-amping or bi-wiring
13-7/8"W x 49"H x 17-7/8"D
weight: 97 lbs.
warranty: 5 years
MFR # 1064559
What's in the box:
Floorstanding loudspeaker
Plinth
Grille
4 Spike feet
4 Rubber feet
2 Jumpers (pre-installed)
4 Machine screws
Owner's Manual
Have Questions About This Product? Message us here or:
Email Us At: info@teamiu.com
Call Us At: 315-458-5000
Verify fitment with your vehicle