Description
The ESCORT X80 utilizes high performance laser sensors to provide maximum warning, long-range protection, and early alerts against all radar bands including conventional and instant-on guns.
Drive with confidence and connectivity
Escort's X80 radar detector features long-range defense and rapid response to keep you informed of incoming threats, but that's not all it offers. Escort's full-color OLED screen lets you parse the details you need quickly, so you can react without hesitation. And its built-in Bluetooth® connectivity means you can add Escort's helpful road-ready app for even more ways to protect yourself.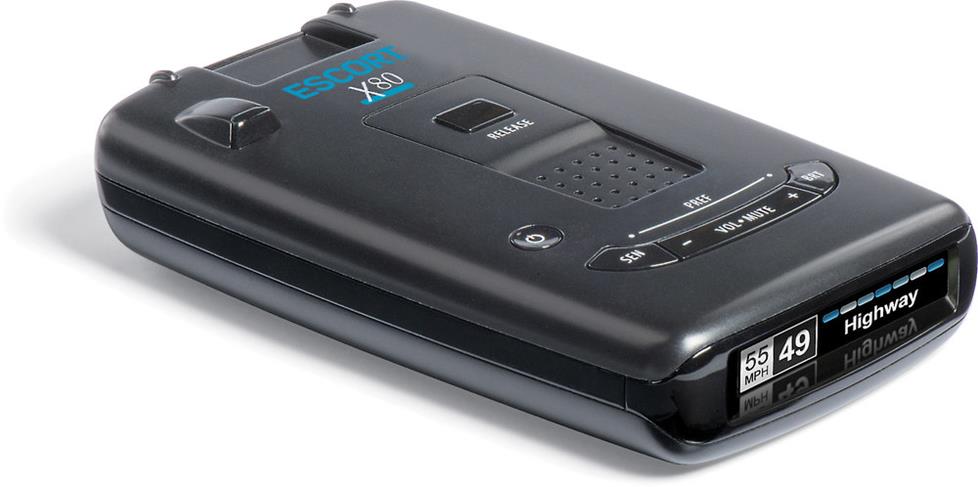 Lightning-fast alerts
The X80's powerful receiver boasts long-range capability for nearly all radar bands, especially the common X, K, and Ka bands. Digital signal processing means you'll get faster warnings over greater distances. Multiple laser sensors give you full coverage in just about every direction.
Sweet new color display
The X80's multi-color OLED screen keeps you informed with brilliant graphics, plus text and signal strength meters. And you can choose among four different display colors to complement your vehicle's interior lighting. It even features ExpertMeter, which can track and display up to four incoming radar signals at once. You can adjust the display's brightness or go fully dark for nighttime driving.
Traffic Signal Rejection
Escort's proprietary Traffic Signal Rejection software goes even further to reduce false alerts. It detects strong K-band signals emitted by common highway traffic flow sensors and weeds them out, eliminating meaningless alarms so you can stay focused on the real threats.
Well-rounded performance
The detector's solid SmartShield VG-2 immunity keeps it invisible to most radar detector detectors. It offers nine programmable features and three sensitivity modes, including AutoSensitivity that lowers sensitivity as your speed decreases.
Extras from Escort
Escort includes a spiffy travel case and an easy-to-use mounting bracket in the box. The coiled SmartCord adapter features an alert LED for visual alerts, even when in dark mode, as well as a mute button for when you need to keep things quiet.
Add Escort Live™ for extra protection
The X80 allows you to track real-time radar threats in your vicinity using your smartphone and the free Escort Live app. Your phone's GPS information provides access to reported radar data from other Escort Live users in your vicinity, and you can report radar hotspots so others driving in your wake will know about potential encounters. The app will also let you track your speed on the detector and alert you when you go over or under a designated cruising speed. You'll need to purchase an Escort Live cord for your iPhone® or Android™ phone, and a subscription fee is also required to use the Escort Live service.
Product highlights:
radar/laser detector
color OLED graphic screen with multiple display modes (blue, green, red, or amber)
built-in Bluetooth connects you to the Escort Live app
headphone jack
Protection:
digital and audio alerts for 8 radar bands (including POP) and laser
Traffic Sensor Rejection software eliminates false alerts from roadside traffic flow sensors
3 sensitivity modes: AutoSensitivity (speed-based), highway, and city
360° laser protection
SmartShield VG-2 immunity (invisible to radar detector detectors)
9 programmable features
Mute and AutoMute modes
compatible with Escort Live real-time service through smartphone app
Specifications:
dimensions: 3-1/16"W x 1-3/16"H x 5-3/16"D
warranty: 1 year
MFR # 0100018-4
What's in the box:
Radar/laser detector
Coiled SmartCord with DC power with cigarette lighter adapter
Dual suction cup windshield mount
Semi-hard storage case
Quick Reference
Have Questions About This Product? Message us here or:
Email Us At: info@teamiu.com
Call Us At: 315-458-5000
Verify fitment with your vehicle