Description
How does it fit?
Alpine has developed a line of Restyle packages, each designed to accommodate the X108U in a specific vehicle. Every package contains a dash adapter which replaces a section of your dash, housing the Alpine receiver. Some packages also include wiring adapters that plug directly into the factory electronics and wiring, including the adapter that allows you to keep your steering wheel audio controls. Once you've identified your vehicle, you'll see if there's a Restyle package available.
No disc player? No problem
Since there's no disc player, the X108U's chassis is smaller than most comparable touchscreen navigators. It's likely to fit in more vehicles (including models for which no Restyle kit is available), and it should ease some of the frustration of installation since you'll have more room for wires, adapters, and other necessities behind the receiver in your dash opening.
Dependable directions
You'll see your maps so easily on the 8" display, and you'll enjoy access to seven million points of interest and detailed road maps all across the entire U.S. and Canada. You'll also have time-saving aids like lane guidance, realistic views of complicated interchanges, and 3D representations of buildings, landmarks, and terrain to help keep you on the right path. You'll also receive real-time traffic reports in most metropolitan areas for as long as you own the stereo, at no additional cost.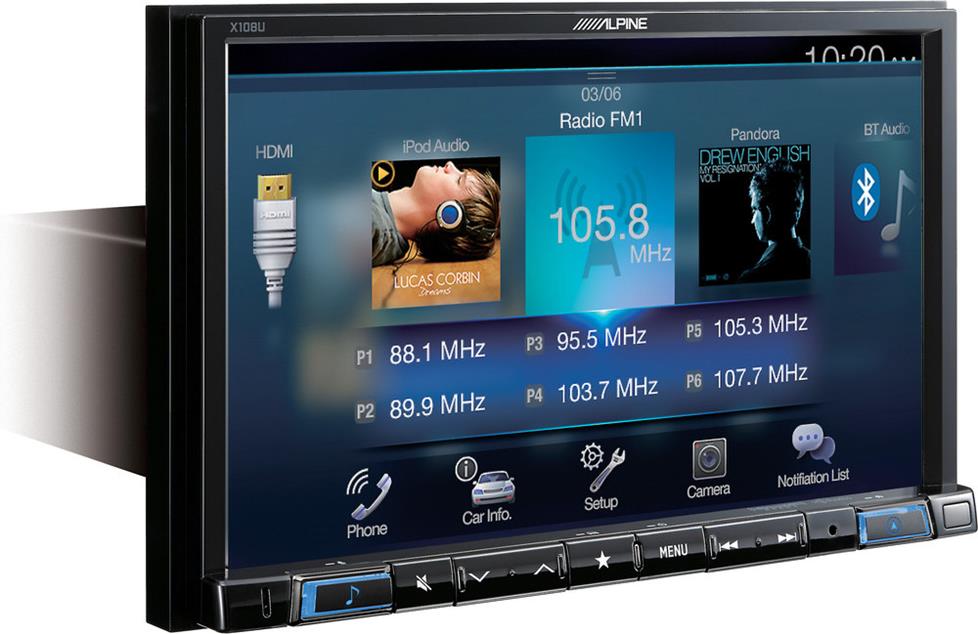 Bluetooth® and quick access to your favorites
Built-in Bluetooth allows you to use the X108U for hands-free calling and music streaming through your compatible phone. The large touchscreen buttons for dialing and volume promote convenient operation. Alpine includes an external microphone to maximize the fidelity of your conversations.
The receiver's "Favorites" button gives you quick access to features you use frequently, like specific radio stations, phone numbers, destination searches, sound settings...anything you'll want to pull up instantly. One touch adds your choice directly to the favorites menu. Your favorites are tied to your phone's Bluetooth profile, so the X108U brings up your favorites automatically when you get into your vehicle. You can have up to two user profiles tied to the stereo, with up to 80 favorites per user spread across 10 touchscreen pages. When the stereo detects two users at the same time, it can offer split-screen access to both users' favorites, so either user can gain control of the action in a jiffy.
Fine functionality for your fingers
The X108U's 8" display features capacitive touchscreen control, similar to your smartphone or tablet. You can pinch-to-zoom the receiver's maps for a better view, or enlarge or shrink album artwork as you please with your fingers.
Not only does the X108U offer easy touchscreen access, it also offers dedicated hard keys along the bottom of the screen so you can quickly pull up functions like navigation, phone access, and sound settings without going through menu screens. You can create a custom top source banner that shows the audio sources you use most frequently, so you don't have to scroll anywhere to choose between a radio station, thumb drive, or MP3 player. The X108U also offers split-screen sound tuning, so you can adjust the sonic controls and change the tracks at the same time, for adjustments that don't waste time.
HD Radio™, Pandora® Internet radio, and more
The X108U comes ready to play with a plethora of entertainment options:

HD Radio reception:

 

You'll enjoy crystal-clear sound quality from participating AM and FM stations, including FM that sounds almost as good as a CD. Plus, you'll see station and song info on the screen.
Pandora Internet radio:

 

Pandora lovers will love touchscreen control over their stations, including thumbs up and down, bookmarks, and station lists. Just plug your iPhone® into the USB port or use Bluetooth audio with your Android™ device.
iPhone and iPod® control:

 

Browsing for your favorite songs is simple and concise, thanks to an intuitive touchscreen interface and the huge display. You can check out song title, artist info, and album art with a quick glance at the big screen.
Satellite radio compatibility:

 

You can add SiriusXM programming to the receiver with an optional tuner and your paid subscription.
Hook it up
The X108U also features an HDMI input, allowing you to connect most compatible Android smartphones and devices. With the correct HDMI or MHL cable connected, you'll be able to view video content from your phone or a portable Blu-ray Disc™ player on the Alpine's screen while parked. You can also connect to compatible rear-seat screens via HDMI cable to play digital video files for your passengers. You also get a rear USB port, plus a rear A/V input.
You can also connect up to three cameras with the optional Multi-Camera Selector Interface, so you can see more of what's around your vehicle when getting in and out of tight spots. Dual-zone output means your back-seat passengers can enjoy movies on optional video monitors while you enjoy some music up front. If you're looking to add subs and amps, you can take advantage of three sets of high-voltage preamp outputs.
Play with your toy's coolest features
If you've loaded your vehicle with add-ons, the X108U's got you covered. The optional Accessory Control Module enables simple system expansion, allowing touchscreen command of up to 8 electrical devices like winches, LED lights, interior lights, suspension kits, and powered bed covers. It'll even let you control your compatible truck toolbox lock remotely. You can customize the onscreen icons and button labels, so you'll be able to access your devices with ease.
Enhanced sonic controls
Alpine's audio engineers have loaded special Sound Parameters Settings into this receiver for all the vehicles covered by Restyle packages. You pick the one that matches your vehicle to get sound that's custom-EQ'd and time-corrected for your vehicle's acoustics. Tailored sound, no tweaking required.
The X108U also works with Alpine's TuneIt 2.0 smartphone app, which is a real time-saver for making audio fixes. For starters, it allows you to create a user profile with info about your vehicle and Alpine system, including speakers and subs. You can then follow simple instructions for adjusting sound settings for your specific vehicle (if available), or choose from pre-made settings within the app designed by Alpine for both the vehicle and your speakers.
You can use your phone's touchscreen to make the changes to the 9-band parametric equalizer, crossover, and time correction with just a fingertip. You can then share your system and settings with other TuneIt app users, and see what they've done as well. You can link your TuneIt account to your Facebook account and get notifications through social media.
The X108U boasts front and rear independent EQs, so you can fine-tune the audio for each listening position in your vehicle. The TuneIt 2.0 app also offers Alpine's Bass Engine SQ tuning feature, which lets you determine which low-frequency characteristics you want to emphasize. It automatically adjusts EQ, sub level, and crossover settings to give you the kind of bass you desire without hassle.
And speaking of great sound, this Alpine lets you play FLAC audio files from your thumb drive, so you can enjoy your lossless tunes as you travel.
Siri® Eyes Free for non-distracting operation
This receiver supports Siri Eyes Free for iPhone users, which means you can ask Siri to make calls, select and play music, compose and hear text messages, read notifications, even use maps and get directions — all commanded by your voice through your Alpine receiver, without any visual distractions from your Apple® device.
Want to keep your car's steering wheel audio controls?
In most cars, you'll need an adapter to retain those controls with this car stereo. Connect a few wires, then program the adapter for your particular car and radio, and you'll retain the convenience of your steering wheel controls. You'll see the adapters that work with your vehicle when you add this receiver to your cart.
iDatalink Maestro lets you keep your car's factory extras
If your vehicle comes with factory add-ons like Ford SYNC®, GM OnStar®, Chrysler Uconnect™, or Volkswagen Bluetooth, you don't have to worry about losing your favorite conveniences to get navigation and better sound — the X108U offers compatibility you won't find in many other aftermarket radios, thanks to the iDatalink Maestro module (not included).
  For Ford SYNC systems, you'll be able to retain voice-controlled features, steering wheel audio controls, and factory audio functions;
  For GM vehicles, you'll keep your steering wheel audio controls, your factory amp, safety warning chimes, and OnStar, if present;
  Chrysler owners, you'll get to keep all your Uconnect functionality;
  Toyota: you'll keep your factory amplifer, auxiliary and USB inputs, rear-view camera, and steering wheel audio controls
  VW owners: you'll keep your factory Bluetooth amplifier and fader, plus the use of the factory media device interface.
The iDatalink Maestro also works with the X108U to provide access to extra features, including climate controls, vehicle info (door status, tire pressure, read and reset engine codes), and gauges (speed, boost, turbo, RPM, engine temperature, and more) through the receiver's touchscreen.
What if there's no Restyle package for my vehicle?
If there isn't a Restyle. package available for your vehicle, Alpine offers their KTX-UTB8 universal dash bezel for custom installations. In most vehicles not covered by Restyle, you can use an adapter to connect your vehicle's steering wheel controls to this Alpine stereo, too.
This digital media receiver will not play CDs or DVDs.
Bluetooth note: Use of this receiver's Bluetooth features will depend upon your phone's Bluetooth capabilities. 
iPod/smartphone note: If you're going to use your iPod or smartphone with this receiver, be sure to check "Details" for compatibility information.
Some states and localities prohibit or restrict the use of video and information displays in vehicles – it is your responsibility to see if any restrictions or prohibitions apply in your area.
READ LESS
Product highlights:
General Features:
digital media receiver with AM/FM tuner

 

(does not play CDs)
8" capacitive touchscreen
built-in GPS navigation
Alpine Restyle package or KTX-UTB8 universal trim bezel required for installation
built-in amplifier (18 watts RMS CEA-2006/50 peak x 4 channels)
built-in Bluetooth for hands-free calling and audio streaming
built-in HD Radio tuner
Smartphone Features:
built-in iPod and iPhone control (see Details for info on compatibility with specific smartphones and apps)
Siri Eyes Free control with select iPhones
iPhone Pandora control with USB
Android Pandora control through Bluetooth
HDMI/MHL cable required for viewing video content from compatible Android devices
Navigation Features:
built-in navigation system with 3D representations of buildings, landmarks, and terrain
maps of the United States and Canada, plus 7 million points of interest
free lifetime HERE traffic service in metropolitan areas
text-to-speech voice prompts announce actual road names at turns
lane assistance and junction view
Audio/video Features:
plays USB memory devices (see Details for full capabilities)
compatible with Alpine TuneIt 2.0 app for sonic profile settings and adjustments through your smartphone
9-band parametric EQ
front/rear independent EQ settings
time correction
high- and low-pass crossovers
dual-zone A/V output
Expandability:
compatible with SiriusXM satellite radio tuner
compatible with optional Truck Accessory Controller and Mutli-Camera Selector Interface
inputs: HDMI input, rear USB input, rear A/V input (occupied if used with optional iDatalink Maestro module), rear-view camera input
outputs: HDMI output; 6-channel preamp outputs (4-volt front, rear, subwoofer)
Other Information:
compatible with most factory steering wheel audio controls (adapter required)
compatible with

 

iDatalink Maestro

retains factory settings for Ford SYNC, GM OnStar, Chrysler Uconnect, and VW media center
displays engine performance data on touchscreen

warranty: 3 years
MFR # X108U
What's in the box:
Navigation receiver w/ integrated 8" LCD touchscreen
Wiring harness
Pre-out harness
Remote harness
Camera/Aux/iDatalink harness
Camera input adapter
GPS antenna (w/ attached 11.5' cable)
5' USB extension cable
Self-adhesive magnetic pad
3 Cable-clips
4 Pan-head machine screws (M5x8mm)
4 Countersunk machine screws (M5x8mm)
HDMI connector-clamp
Quick Reference Guide (En/Fr/Sp)
Installation Manual (En/Fr/Sp)
Product Registration Card
Verify fitment with your vehicle