Description
PRODUCT OVERVIEW
This complete 600-watt sound system combines the premium sound you've come to expect from Alpine as well as a unique design that will complement the look of your Side-by-Side or UTV.
What's Included:
(4) 6.5" 2-Way Mid Bass Drivers
(4) ASA 978 B+ Fiberglass Speaker Pod with Folding-Style Clamp
(1) KTA-30FW 4-Channel Weather-Resistant Tough Power Pack Amplifier
(1) KCX-BT01 Weather-Resistant Bluetooth® Adaptor
*Additional speaker and power wire may be required for installation.
Speakers: 
Enclosed 6.5" 2-Way Speakers 
1" Teteron Dome Tweeter
Rated IP55 Weather-Resistant 
Steel Frame
Amplifier: 
Alpine's Class D Amplifier with Dynamic Peak Power (DPP) 
4-Channel Power Pack Amplifier  
Rated IP66 Weather-Resistant 
Bluetooth Adaptor: 
12V Weather-Resistant Bluetooth® Adaptor
Complete Wireless Connections Bluetooth® 4.0
Built-In Line Driver for 3x Voltage Output 
Music Signal Remote Trigger Output
Speaker Pods:
ASA 978 B+ Fiberglass
Pro-Style Folding Style Clamp that will fit 1.5"-2" Rails.
Rotating Coated Aluminum Base
90-Degree Plug with 20AWG Pigtail 
Rated IP65 Weather-Resistant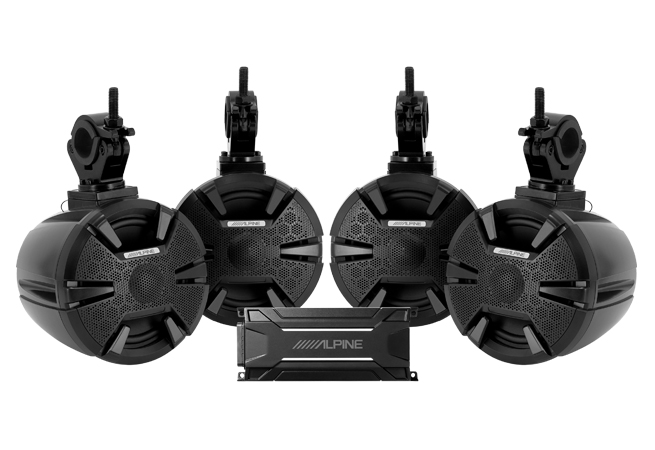 NEXT LEVEL SOUND
Get everything you need to take your side-by-side system to the next level with the PSS-SXS01-PWR Power Package Upgrade. This upgrade includes Alpine's PSS-SX01 and SPV-65-SXS for the ultimate sound system upgrade.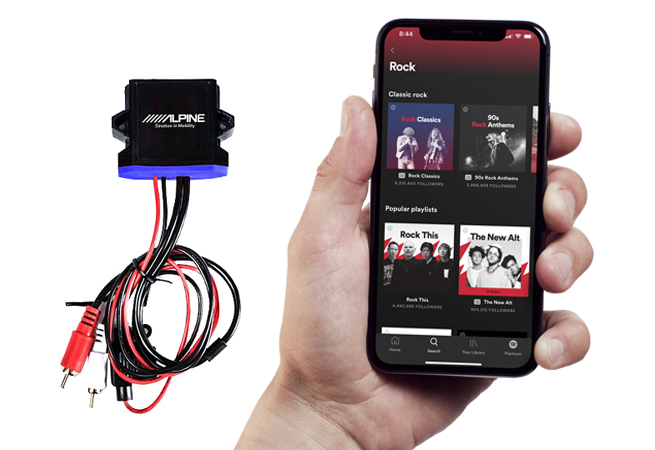 MUSIC ON YOUR ADVENTURES
Stream music directly from your smartphone without a radio or head unit source with the included Bluetooth® Adaptor. The module allows for quick and easy pairing to your smartphone so you can listen to your music during your drive.
Payment & Security
Your payment information is processed securely. We do not store credit card details nor have access to your credit card information.