Description
Overview
The Bullfrog JUMP is great for impromptu gatherings, Easy to transport, Rugged build quality, Plays loud and clear and Water resistant.

THE VERDICT
The Bullfrog Jump lives up to Kicker's reputation for delivering big, bold sound that you can take with you wherever you go.
The Bullfrog Jump hails from Kicker, the iconic car stereo brand founded by Oklahoman Steve Irby in 1973. Irby invented the self-contained speaker box for cars and pickups and went on to build a company that today offers a range of audio products—from headphones to portable speaker systems to a full line of autosound gear, including those famous ground-pounding Kicker boxes.
Built to Last
The Jump is superbly crafted, boasting what Kicker calls a "near impenetrable" rubberized enclosure. No joke. This thing is bad-ass with a 4-inch driver/3x4-inch bass radiator combo on each side—firing in opposite directions from behind weather-resistant metal grilles—and an IP66-rated enclosure that's impervious to dust/dirt/sand and direct water sprays from a high-pressure nozzle. Definitely a Kicker.
Its sleek handle beckons, encouraging you to take it along on your next adventure, whether that's tailgating, camping, boating, or just hanging out at the beach or on your deck. Rubber-encased controls are located below the handle along with a row of LEDs that shows battery status and a small button for switching from Bluetooth mode to FM radio (nice) or auxiliary input (for times when a wireless signal just isn't available); press and hold the button, and it puts the Jump in pairing mode. A second LED trio indicates source: blue for Bluetooth, red for radio, green for aux.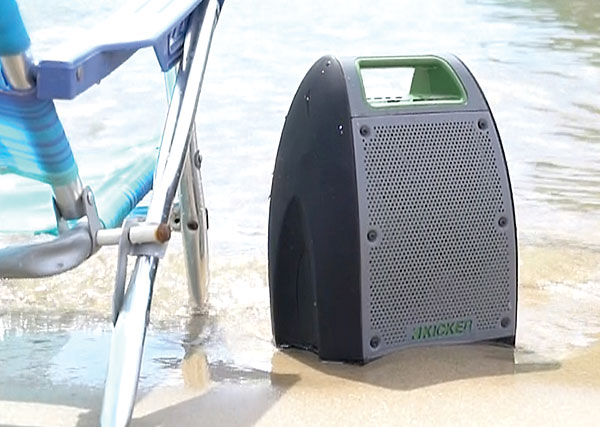 Specifications:
Drivers: 4 in drivers (2)

3x4 in passive bass radiators (2)

Connections: Wireless input via Bluetooth with auto-connect to up to five devices

1/8 in antenna output (antenna included)

1/8 in analog audio input

USB port (for charging devices)

DC power input

Dimensions (WxHxD, Inches): 7.75 x 10.5 x 5.9

Weight (Pounds): 8.6
Have Questions About This Product? Message us here or:
Email Us At: info@teamiu.com
Call Us At: 315-458-5000